4th-6th Grade Parents: Pee Wee Cheer information was sent home last week. Registration forms are due this Friday. If your child needs a form, please contact the Elementary office or Mrs. Murdock. Thank you!
Due to some sickness we have rescheduled the senior group picture to Wednesday, Jan. 13- during Map testing for 9-11 grades- at 9am. Seniors please meet in the commons
Don't forget seniors - Tuesday, Dec. 7 - you need to be at school at 8:45. The senior group picture will be taken. If you have any question please get with Dr. Underwood.

Reminder that due to ACHI data WCC will be under a mandatory face covering for the week of December 6-10. Thank you for your understanding.

We have received the updated ACHI data for active COVID cases within our district. Unfortunately we are back in the Red Zone and will have a face covering mandate for the week of December 6-10.

Host a foreign exchange student and have them attend WCC!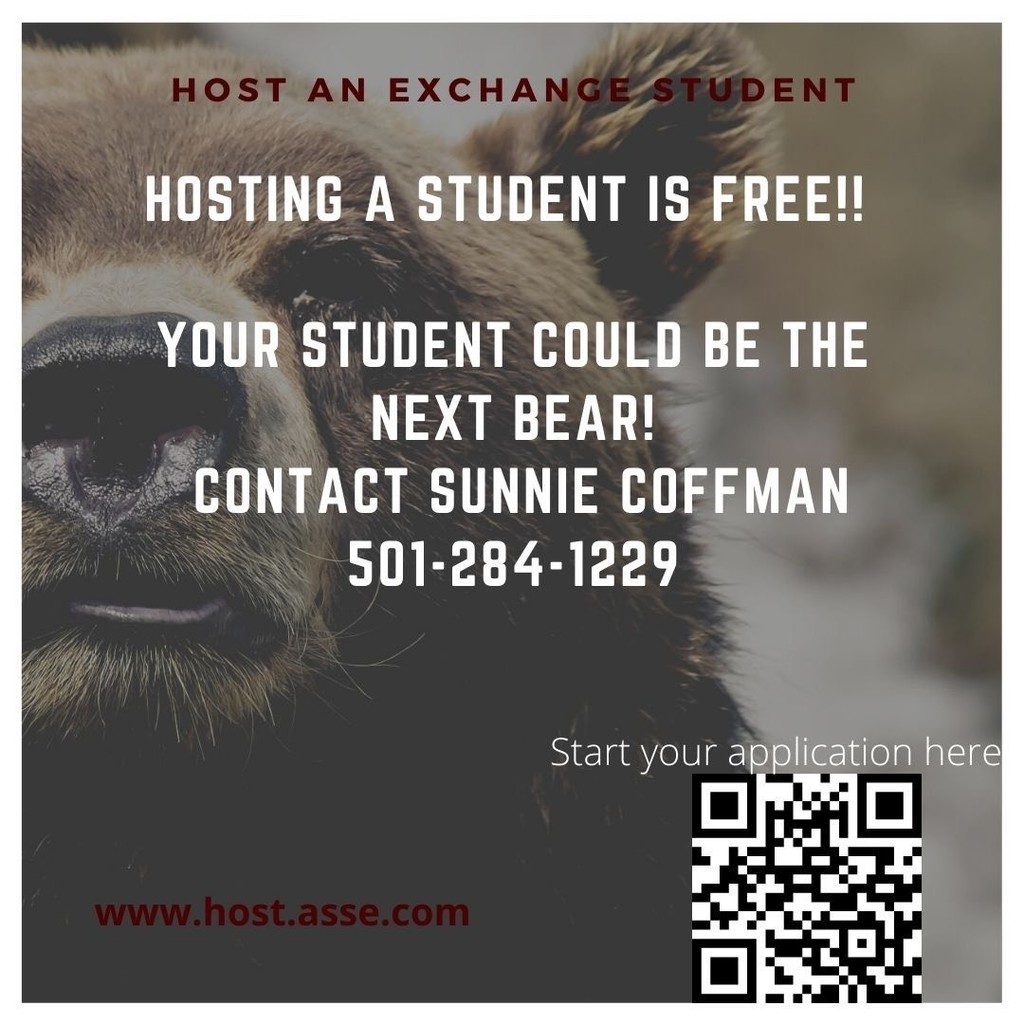 We hope everyone had a great Thanksgiving break and we look forward to seeing you again tomorrow. ACHI did not release data for the week of Thanksgiving regarding COVID cases, so we will be using the newly adopted board policy for next week. The policy requires face coverings if we have 15 positive cases on campus. As of this evening, our latest case count is 7, so we will begin the week with face coverings being optional but recommended. We have had a slight uptick in positive cases over the past 2 weeks and have had to quarantine a much larger number due to possible exposure. Remember that the only way to prevent being quarantined if exposed, is to be vaccinated or not be within the 3' barrier of a positive case longer than 15 minutes over a 24 hour period. If our number ever reaches 15 cases then a message will be pushed out regarding a required face covering until the number drops below that threshold again. Thank you for your continued understanding and patience as we continue to deal with this pandemic.

WCC wants to wish everyone a happy and safe Thanksgiving break. School will not be in session again until Monday, November 29. As of right now, ACHI has us back into the RED zone for COVID. Due to this uptick, had we been in school next week, we would have re-imposed the face covering mandate for the week. ACHI is supposed to stop the data collection at some point. If/when that happens, the Board has enacted a policy that if we have 15 or more cases on campus then we will be masked for the week. We currently have 9 active cases. Hopefully the break will give some time for healing and lower our case number. We will send out a message next weekend to let you know of face covering status for the week of November 29. Happy Thanksgiving!
Correction - The Jostens man will be dropping off the class rings that have been paid in full today at 9am
Don't forget today is the day for juniors to drop off junior class rings at 9am.
The 7th basketball games at Tuckerman on Saturday are cancelled.
The basketball games on Friday at Augusta are cancelled. The basketball games on Monday, Nov 22 are cancelled.
Parents/Guardians of Seniors: Senior Recognition ads for the yearbook are on sale until 12/3! These can be paid for/designed online at jostens.com, or can be bought through the school. If purchasing through the school, please make checks payable to WCC and write "yearbook ad" in the memo line. Now is also the time to purchase a yearbook! They are currently $45. These can also be purchased online or through the school. Please contact Ms. Julia Williams at
jwilliams@wccbears.org
with any questions!
This week's Jr High Basketball Tournament Info… It starts today at Quitman! Go Bears!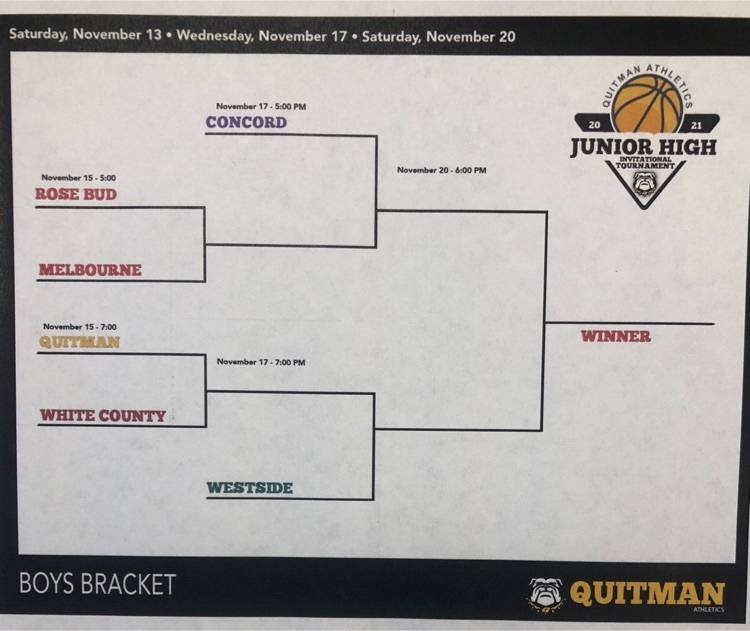 WCC BearLand Weekly!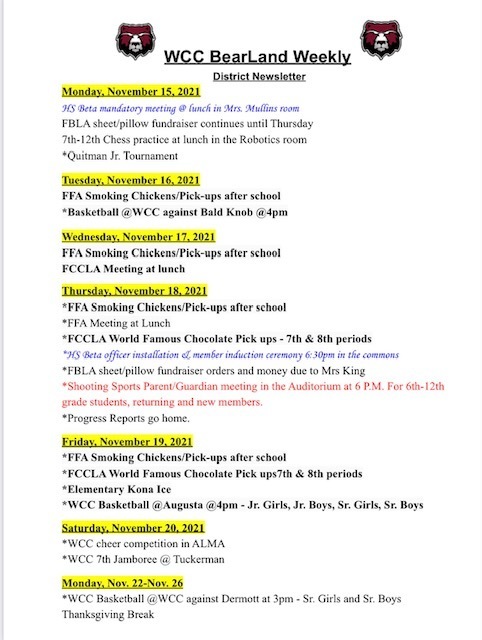 WCC is needing subs!!! If you are interested please read this flyer and follow the steps. If you need help please contact us!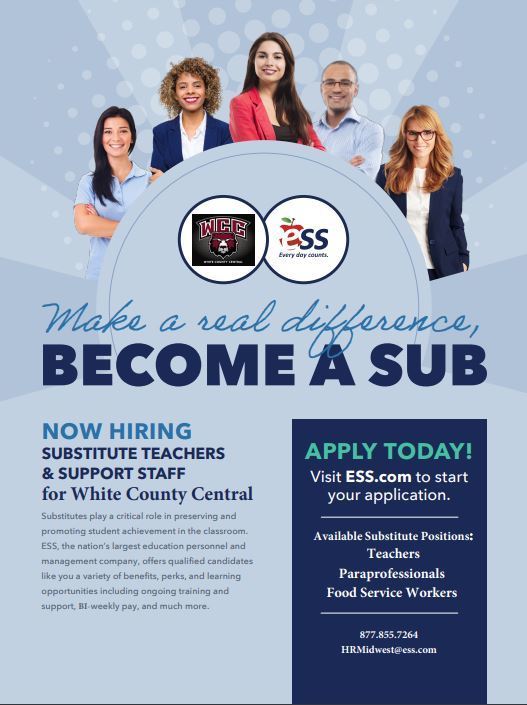 Elementary parents-Just a few reminders about ballgame attendance. All K-4 students are required to have an adult in attendance with them at the ballgames. Additionally, all K-4 students must sit with an adult. They do not have to sit with their parent if they want to sit with friends, but they do have to sit with an adult. K-4 students should not be in the student section without an adult (older sibling does not count). This is for your child's safety. Also, K-4 students should not be on the gym floor at any time. They also should not be in the locker room/coaches office areas. We appreciate your understanding.