The basketball games for 5th and 6th grade are cancelled for Friday, Jan 28. We will have home ballgames for our Jr Girls and both Sr High teams versus Salem on Friday, Jan 28.

White County Central remains in the Purple Zone for COVID and will be under a mask mandate for the week of January 24-28.

Thursday, Jan. 20th's away basketball's game at Palestine Wheatley - there will only be 3 games: Jr girls, Jr boys, Sr boys. Games will start at 4pm.

Students that borrowed a hotspot during AMI days - don't forget they are due back today.

WCC remains in the purple zone of ACHI data so we will be under a mask mandate for the week of January 18-21.
Monday, Jan. 17th's basketball's game against Mt. Vernon has been cancelled and will not be made up.
7th Grade Jamboree!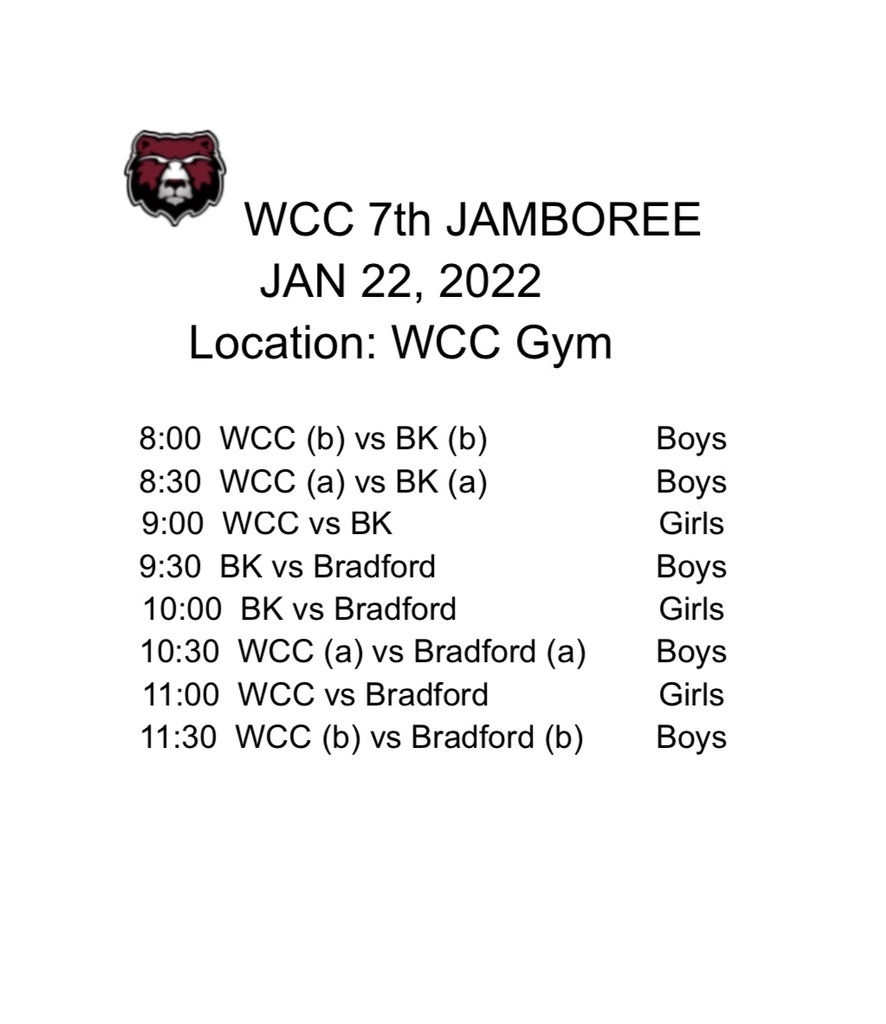 The Jan. 24th basketball @ Bald Knob has been cancelled.
Update for WCC basketball games: Thursday, 1/13 games against Heber are cancelled.

We apologize for all of the messages. We are trying to address the many questions we are receiving to cut down on phone calls. While PreK is open, it will NOT be open for school aged children. Before and After School Care is cancelled for Thursday and Friday. PreK does not have the staffing for school aged children to attend all day.

WCC Preschool will remain open on Thursday and Friday. They will NOT close on these two AMI days.

If your family is in need of a hotspot, please contact us today so we can have them ready. You will be able to pick them up at 9:00 am tomorrow morning in the High School Commons.

Lunches will be available to students for Thursday and Friday's A M I days. K-4 parents-please let your child's teacher know if you will need a meal for your child and for which days. 5-12 parents-please call your building secretary to let them know what meals are needed. No lunch orders can be accepted after 10:00 am each day. Please inform us ASAP. Unfortunately we are unable to deliver lunches. They will need to be picked up at the cafeteria at noon each day. You can go directly to the cafeteria to pick up the lunches. Remember we are under a mask mandate and you will need to wear a mask.

Parents: Due to increasing COVID numbers and having problems with staffing, we will be taking AMI days on Thursday and Friday of this week. Classes will resume in person on Tuesday, January 18th. If any family is in need of a hotspot for these two days, please notify the school today and it can be picked up tomorrow. Please contact your building principals if you have any questions.

WCC's basketball games with Midland scheduled for Friday are postponed due to COVID protocol within Midland's program.
Midland games on Friday, Jan 14 are cancelled and will be rescheduled.

We apologize for the late notice but just received updated data from ACHI that 97% of school districts in the state are red, purple, or the new color pink for COVID cases. The data usually comes out on Thursday, but they updated the link earlier due to the spread of cases. We have gone from yellow to purple in just 3 days. We will be back under a mask mandate for the remainder of this week. Please check with the offices if you need a mask for today.