Bus 6, Mr. Robert Mobley, is running a few minutes late. We apologize for the inconvenience.
At this time we are not taking any online payments for breakfast or lunch. We apologize for inconvenience. We will let you know when we get it working. Please send your money in an envelope with your child's name and grade on it and get it sent to his/her teacher or to the child's office. If you have any questions please call their child's office. Have a great day!
Please see the attached August lunch menus. The menus are also on the red tab on the wccbears.com website homepage. Click on the reb tab on the website and then click on the link. You can also go to the WCC app.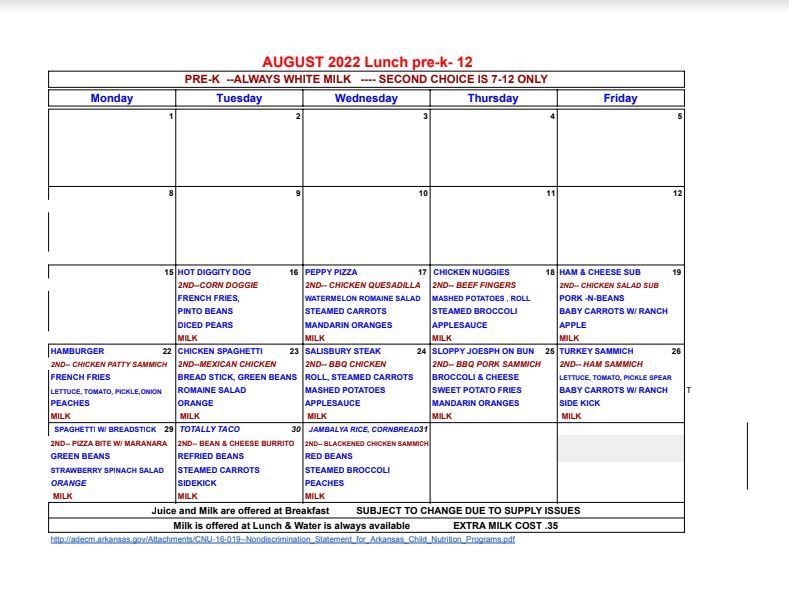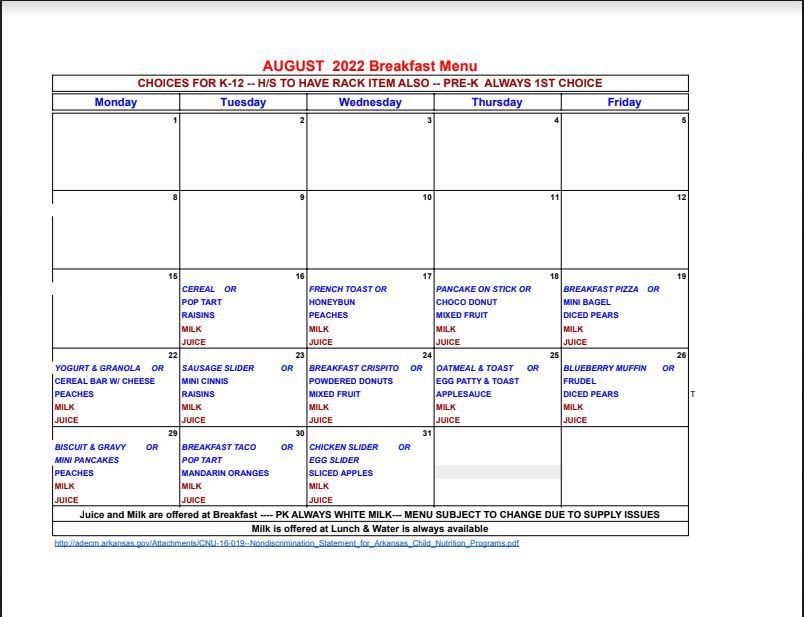 For tomorrow only, kindergarten students will start at 9:00, instead of 7:30. We look forward to seeing your students and are excited for this new school year!
Don't forget tomorrow is the first day of school for White County Central. 7-12th grade students will be dropped off and picked up in the high school parking lot and K-6th will be dropped off in the auditorium parking lot. Please be patient the first couple of days while the drop off and pick up lines are figuring out the best possible ways to be efficient and effective. Drop offs for K-12 will start at 7:30am in the morning. If you have any questions please contact the school. We can't wait to see all of the BEARS!

Kindergarten parents, you are invited to a BooHoo breakfast hosted by the WCC PTO. It will be held right after tomorrow's 9:00 drop-off, and will be in the Elementary Cafeteria. We are excited to see everyone tomorrow!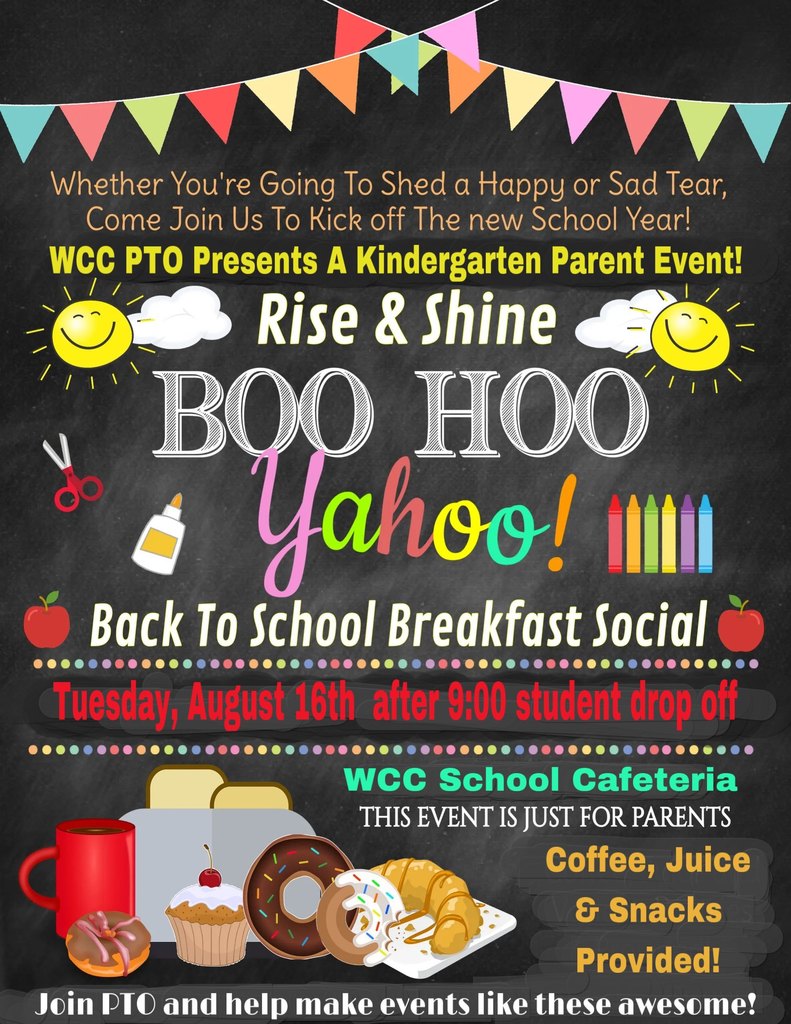 WCC Bears! Don't forget that school starts on TUESDAY, August 16th! We are so excited to see everyone!!!

Due to high numbers JH boys basketball will have tryouts next week during their period and a list will be posted Friday of those results.
High School teachers were given a bag with WCC/bear (emblem on it), candy, a tumbler from the National Army Guard and a scarf with WCC embroidered on it - making sure they knew cold weather was coming. The bag and scarf was from HS PTO. WCC HS knows that this year is going to be a GREAT year and we are ready for our GREAT bears to arrive on Tuesday, Aug. 16th!!!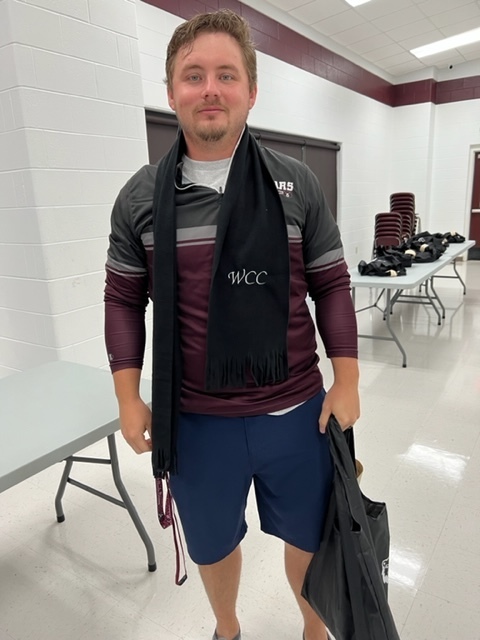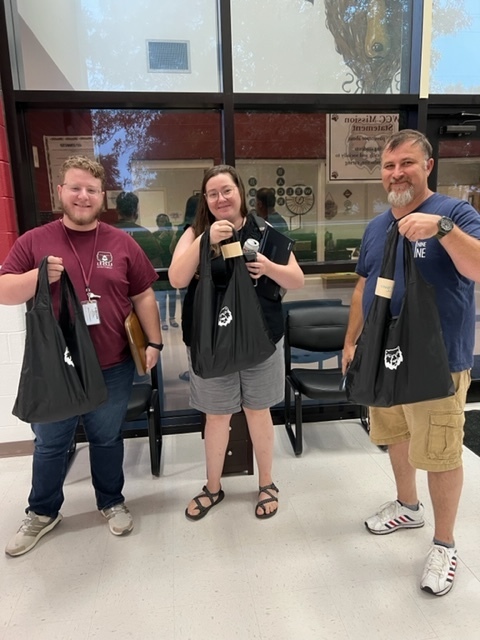 Thank you so much to our FCS group that handed out popsicles to our high school students as they picked up schedules last week. 7th -12th grade students - if you have any questions about coming to the FCS meetings please feel free to email Taylor Moffett at
tmoffett@wccbears.org
.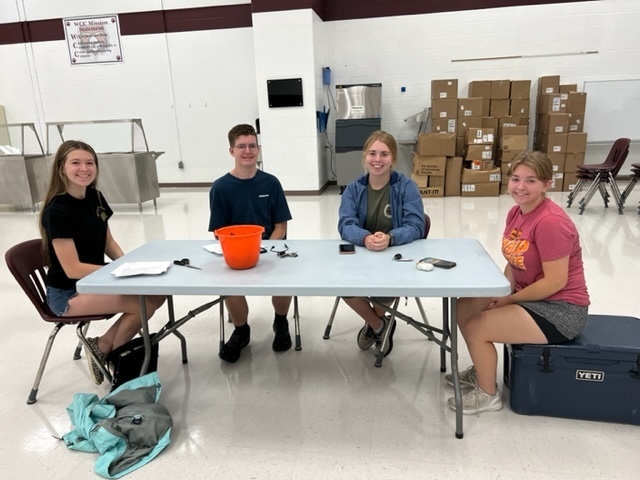 WCC Parents, the last summer food box pick up will be this Friday (Aug. 12) from 2:00-4:00. Pick up is at Clearwater Baptist Church, 3032 Hwy 157, Judsonia.
Don't forget that K-12 Open House is tonight, Tuesday, Aug. 9th from 6pm to 7:30pm! 9th-12th students - if you pick up a new schedule tonight - your locker number is on there! K-4th start off in the auditorium. 5th-12th go to your building.
Don't forget yearbook pick up/signing is tonight from 4:30pm to 6pm in the high school commons. Hope to see you there

Quick reminder to take a moment to go to wccbears.org and fill out the Free & Reduced Lunch Form for this school year. Every household should fill one out, even if you think or know you will not qualify please fill it out. There has been an update on the reduced prices.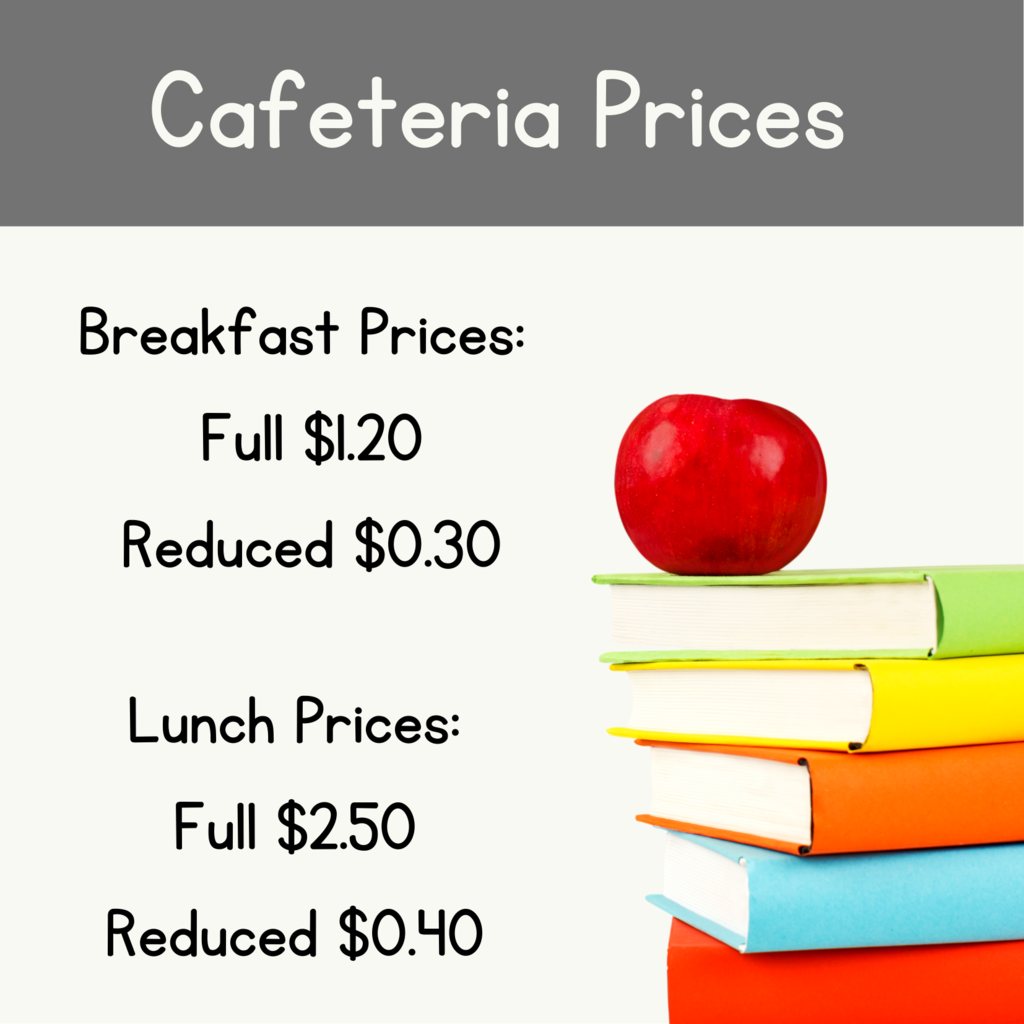 White County Health Dept will be hosting an immunization clinic for school immunizations. Typical ages for these vaccines are Kindergarten, 11 years old, 7th grade, and 16 years old. Please see the attached flyer from the Health Dept. The clinic will be Tuesday, Aug. 9 from 9:30am to 6pm at 112 Brantly Rd in Searcy.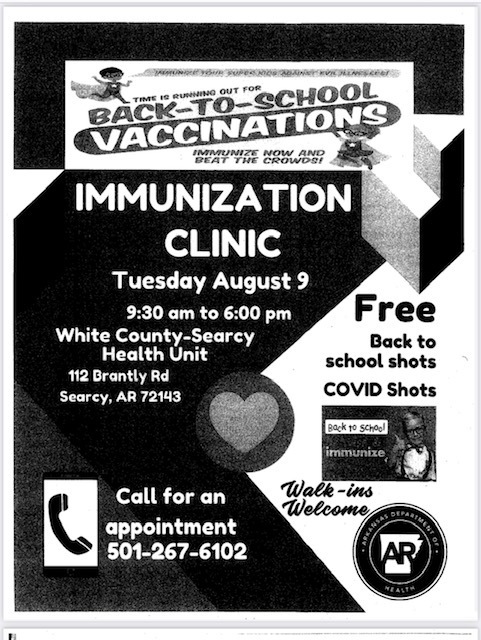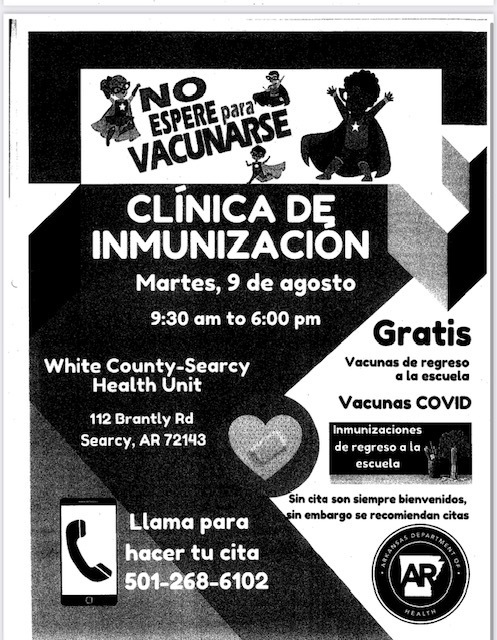 Don't forget seniors!!!! Tomorrow from 9am to 1pm tomorrow in the auditorium.. You can come at any time!! Senior 2023!!!

The Middle School Open House is on Tuesday, August 9th from 6:00-7:30.

Camp Kindergarten is next week! We are looking forward to seeing your students. If you haven't signed your Kindergartener up for Camp Kindergarten use the link below:
https://forms.gle/kaYTWsjMpMQszoMp8
If you ordered a yearbook from last year (21-22) there will be a yearbook pick up signing/mingle event on Monday, Aug. 8 from 4:30pm to 6pm in the high school commons for anyone that purchased a yearbook! If you have any questions contact Mr. White at
zwhite@wccbears.org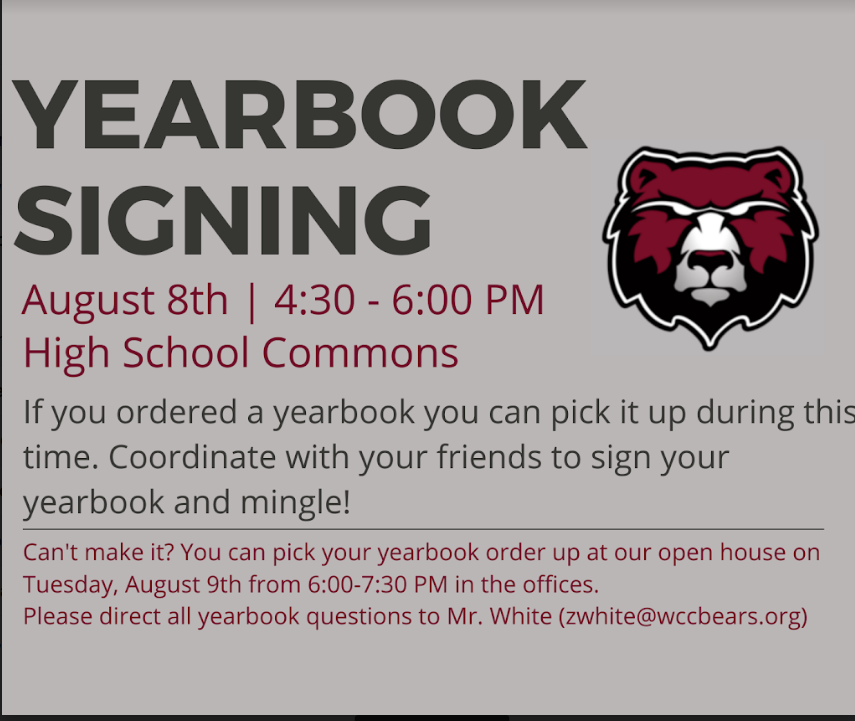 WCC Preschool Open House!