The postponed conference games with Salem are due to COVID protocol within the Salem program.
The games against Salem , Tuesday, 1/11 are cancelled tomorrow and will have to be rescheduled at a later date.


WCC is in the Yellow Zone this week so masks are optional, However, we are aware of several new cases this weekend, so we are highly recommending masks for your protection.

Parents: The Arkansas Department of Health has released new guidelines for positive COVID cases and quarantines for schools. These guidelines align with CDC guidelines nationwide. Positive cases will be isolated for 5 days and then may return to school if they are not experiencing symptoms and are fever free for 24 hours. They then will be required to wear a mask for the remaining 5 days of their isolation. Quarantines will work in a similar fashion with the 5 days quarantined followed by 5 days of wearing a mask upon return. Please contact your building principal if you have further questions.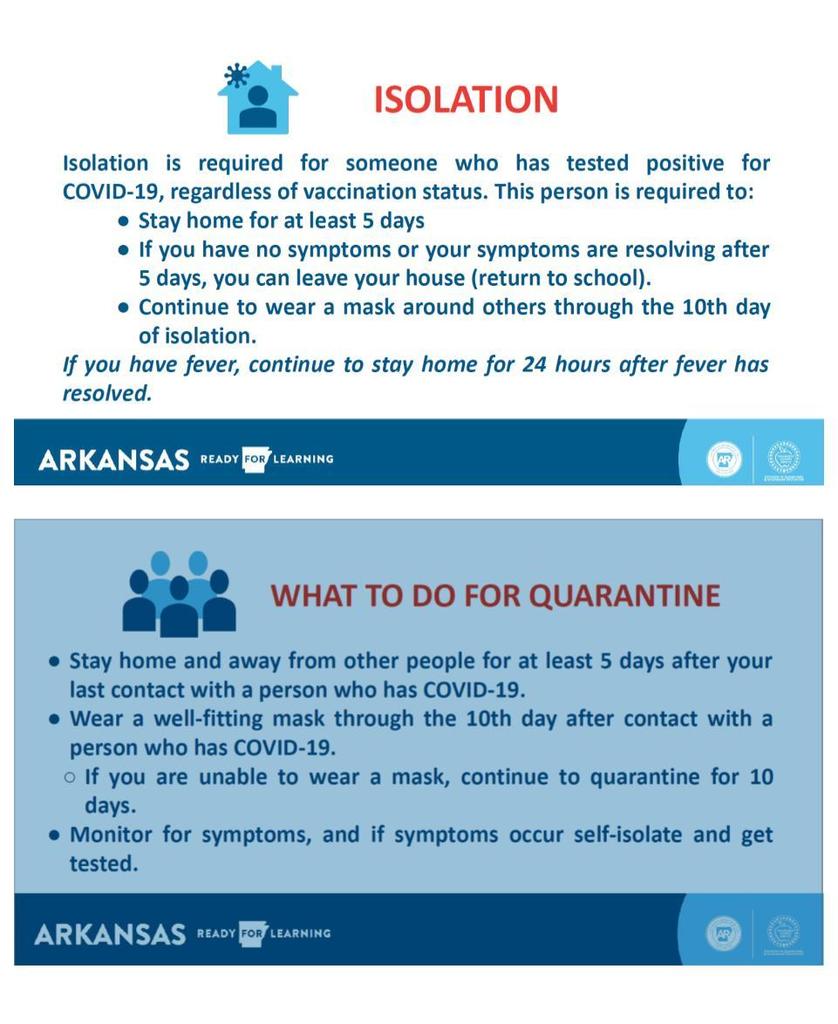 Friday, Jan. 7th's basketball away games against Shirley have been cancelled.


Reminder that WCC will resume classes on Thursday, January 6, 2022 and will be mask optional for the week. Enjoy the rest of your break.

Mr. Clouse's bus is running about 25 minutes late. We had a bus issue and he is changing buses. We apologize for the inconvenience.
This message is for anyone whose child receives a food bag each Friday. The bags going home tomorrow are going to be extra heavy. If possible, please stop by the elementary building and pick up your child's bag. Little ones will have a difficult time carrying them on the bus or to car riders. Thank you!

WCC COVID numbers have dropped and we will be in mask optional for the week of December 20-22.
The choir concert that is being performing today (sr choir, jr choir and 1st grade) is being live stream is on the you tube channel called White County Central Youtube channel.


The Christmas Choir Concert originally scheduled for last Saturday (12/11) will now be performed this Thursday (12/16) at 9:00 am in the WCC Auditorium. The public is invited to attend. Reminder, masks are required.

There will be a free COVID booster clinic set up in the auditorium today from 1:00-4:30. All are welcome to get their booster. It is the Pfizer booster.

Due to the devastating tornadoes that swept through the state last night, the school has lost electricity. We are unfortunately having to cancel the choir Christmas concert scheduled for tonight. We will update you of a possible time that it will be performed in the future. Please pray for those communities that lost lives and property last night.

Saturday school is postponed today due to power being out on campus.

We unfortunately have remained in the Red Zone for ACHI data for COVID infections and will still be in a face covering mandate for the week of December 13-17. The map is published under the COVID Weekly Update tab on our district webpage at wccbears.org
Attention Parents!! Senior Ads for the yearbook can be purchased through Jostens.com until 1/31. These can also be purchased through the school. Please contact Ms. Julia Williams at
jwilliams@wccbears.org
with questions! Yearbooks are on sale now for $50. These can also be purchased at Jostens.com or through the school. If you need an order form, or have any questions, please contact
jwilliams@wccbears.org
Thank you for your continued support of our yearbook!