Introducing Coach Kersey!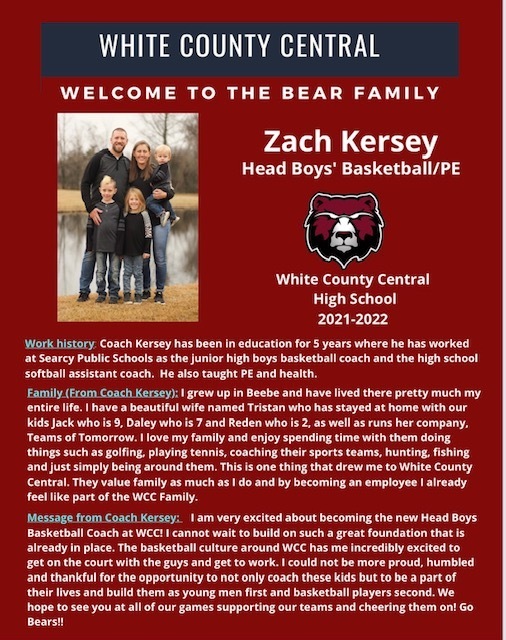 Congratulations to Jacob Neal for receiving his Industry recognized ServSafe Food Manager Certification as a part of his Food Safety & Nutrition class!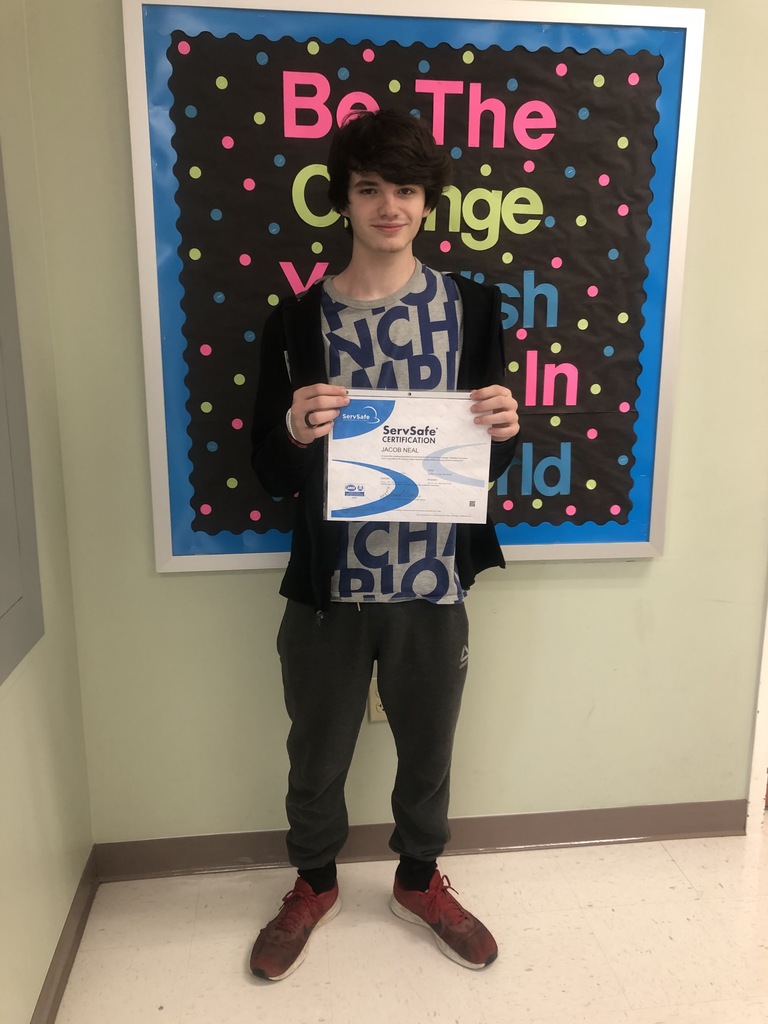 Introducing the 7th/8th grade math teacher for next school year- Mrs. Hale!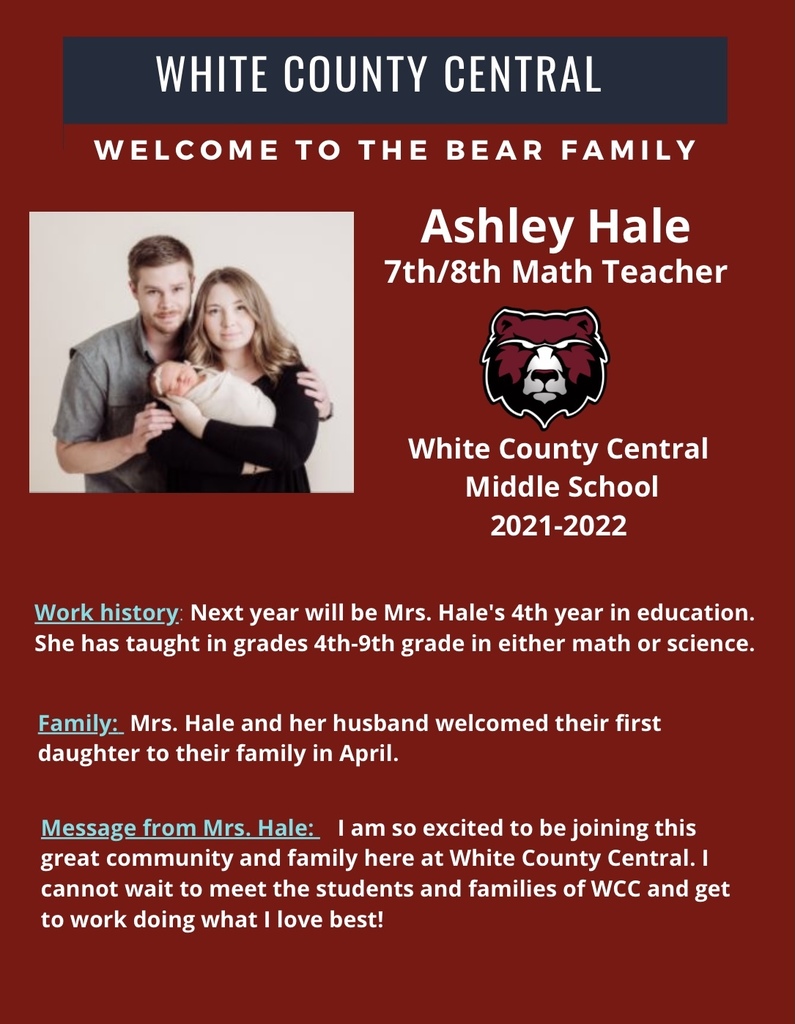 Third grade teacher, Ms. Erin Bradley, challenged her students at the beginning of the year to reach level 21 in Lexia, an online reading program. She promised them that if anyone in the class passed that level, she would kiss a cow! Her students rose to the challenge! They worked very hard this year. She had one student pass the challenge. Today, Ms. Bradley kissed a cow! Chick Fil A donated meals to her class and the Chick Fil A cow visited and got a kiss from Ms. Bradley! Thank you Ms. Bradley for challenging your students!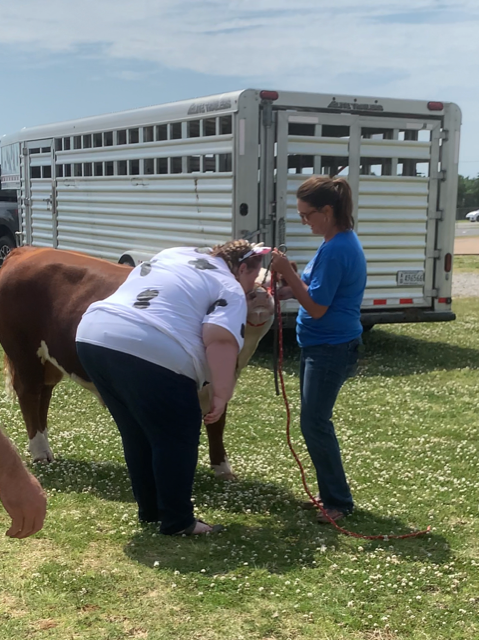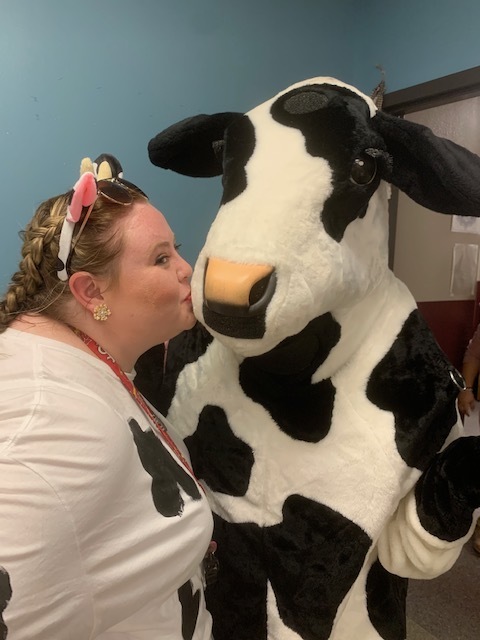 There will be a parent meeting with Coach Kersey on Thursday at 6:00 pm in the HS Commons. This is for NEXT YEAR'S 7-12th grade boy basketball players. Hope you can make it!
Introducing Ms. Hale!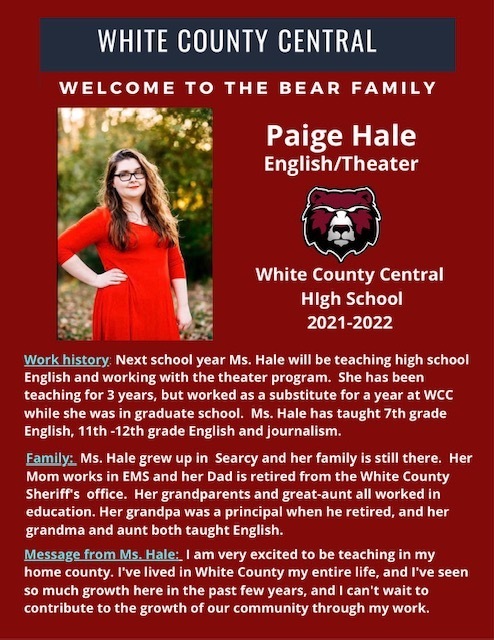 Bus 6, Mr. Altom's bus, is running about 8 minutes late today, Monday, May 24th.
Introducing Mrs. Bettis!!!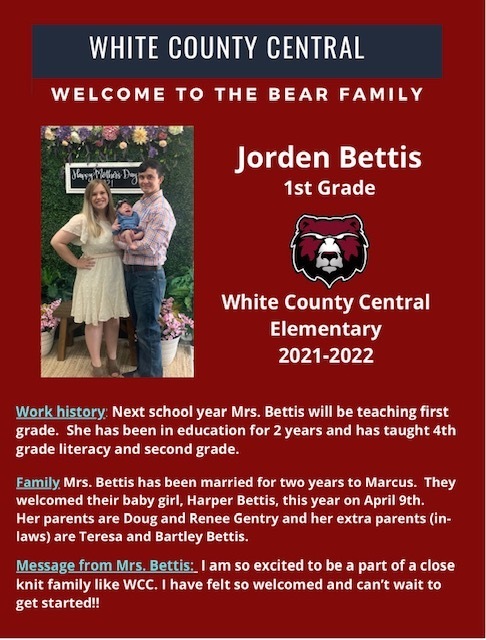 The WCC baseball team will have their first annual Summer baseball Camp! June 1st & 2nd! Flyers will be sent home today with your child. There will be extra forms in the elementary office. Please return form and money in an envelope to the Elem. office or to Coach Anderson.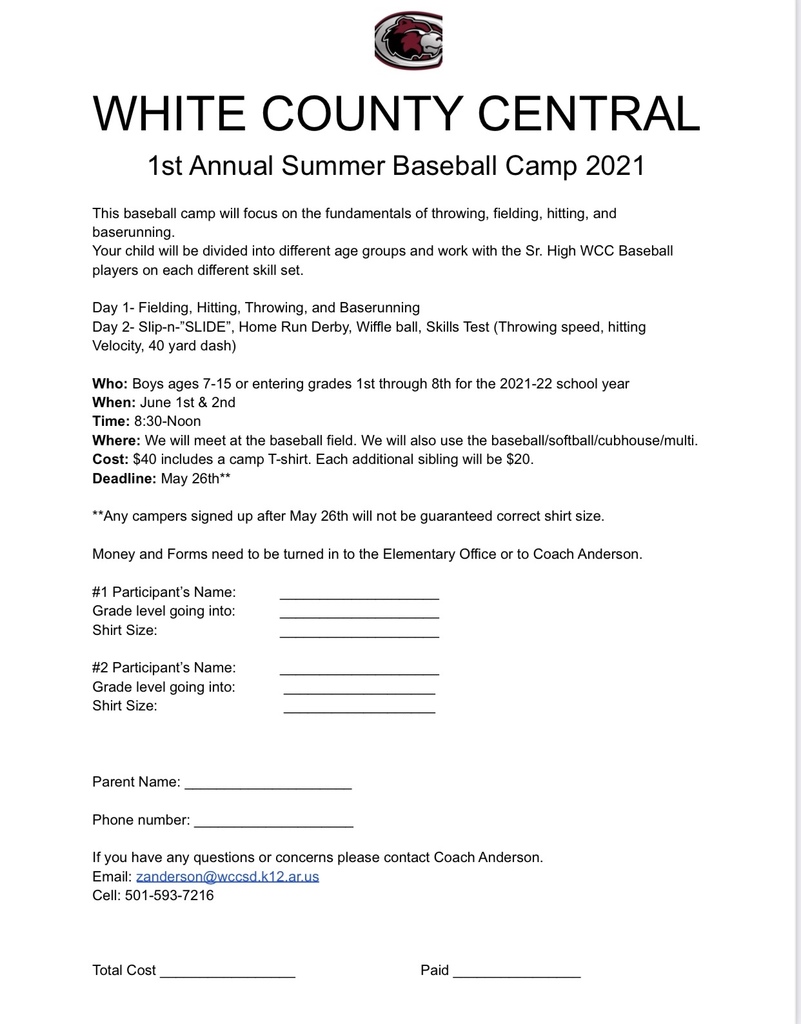 The athletic awards assembly is tonight (May 20th) starting at 5:00 pm in the auditorium. This is for grades 7-12 basketball, baseball, shooting sports and track. Parents/family are invited to attend.
Introducing Ms. Herekamp!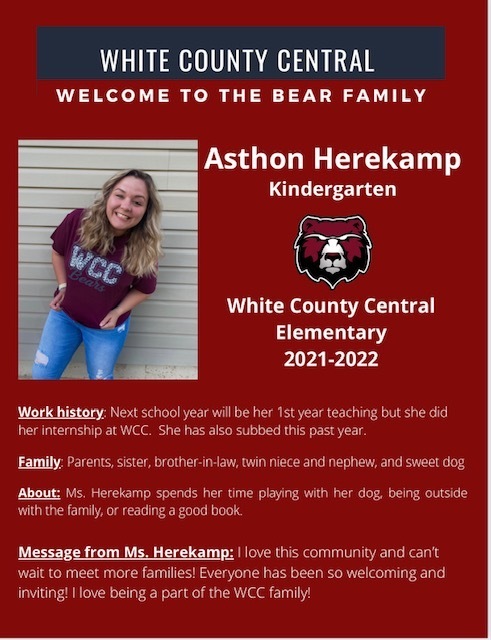 Important message for Wednesday (5/19) morning: Any student that rides the bus and lives on Harrison Road will need to meet the bus at the corner of Y & Y and Harrison in the morning. Pick up will be at approximately 7:25. The bus cannot make a turn around on Harrison until the road is repaired. Thank you!
Abigail Birmingham received her Southwest Airlines Professional Communication Certification Award as a part of Dynamics of Human Relationships class. Congratulations!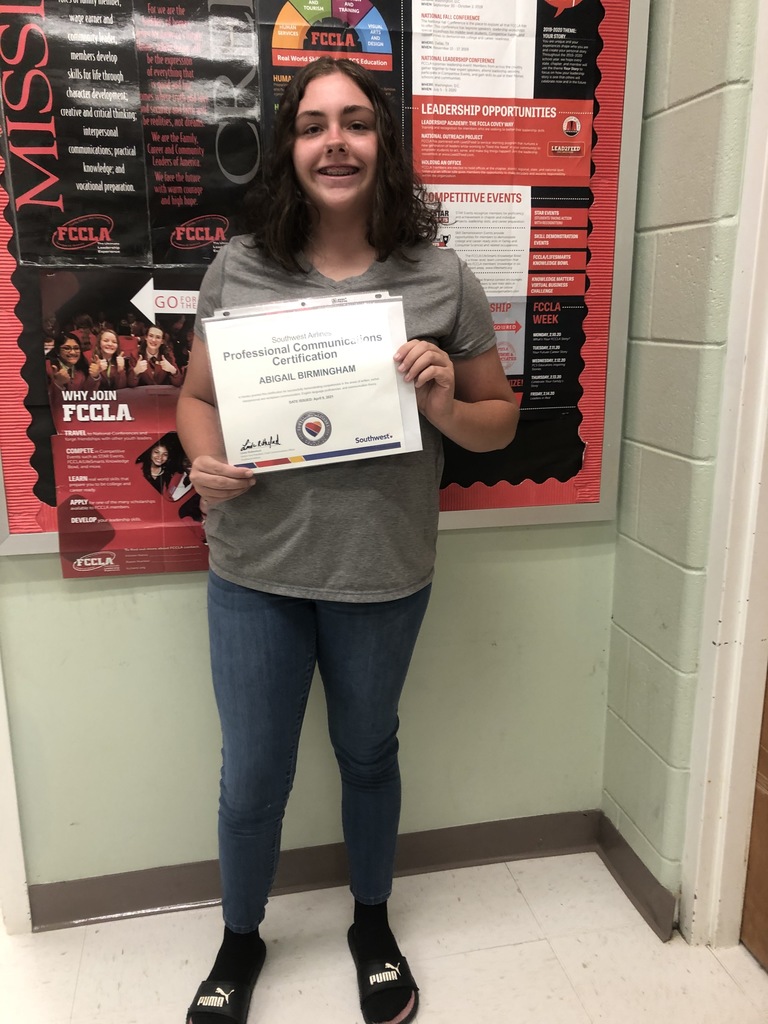 Yearbook sales will stop on May 25. That's just 1 week away!! Don't miss your chance to order your book for this momentous year. From covid to history making events in sports and activities. From first day of school to graduation and Annie, this book has it all there! Order today at
https://www.jostens.com/apps/jcom/router.mvc?affiliateId=1002415
before it's too late! Books are $55. There will be limited extras when books are distributed in August! Guarantee yours now!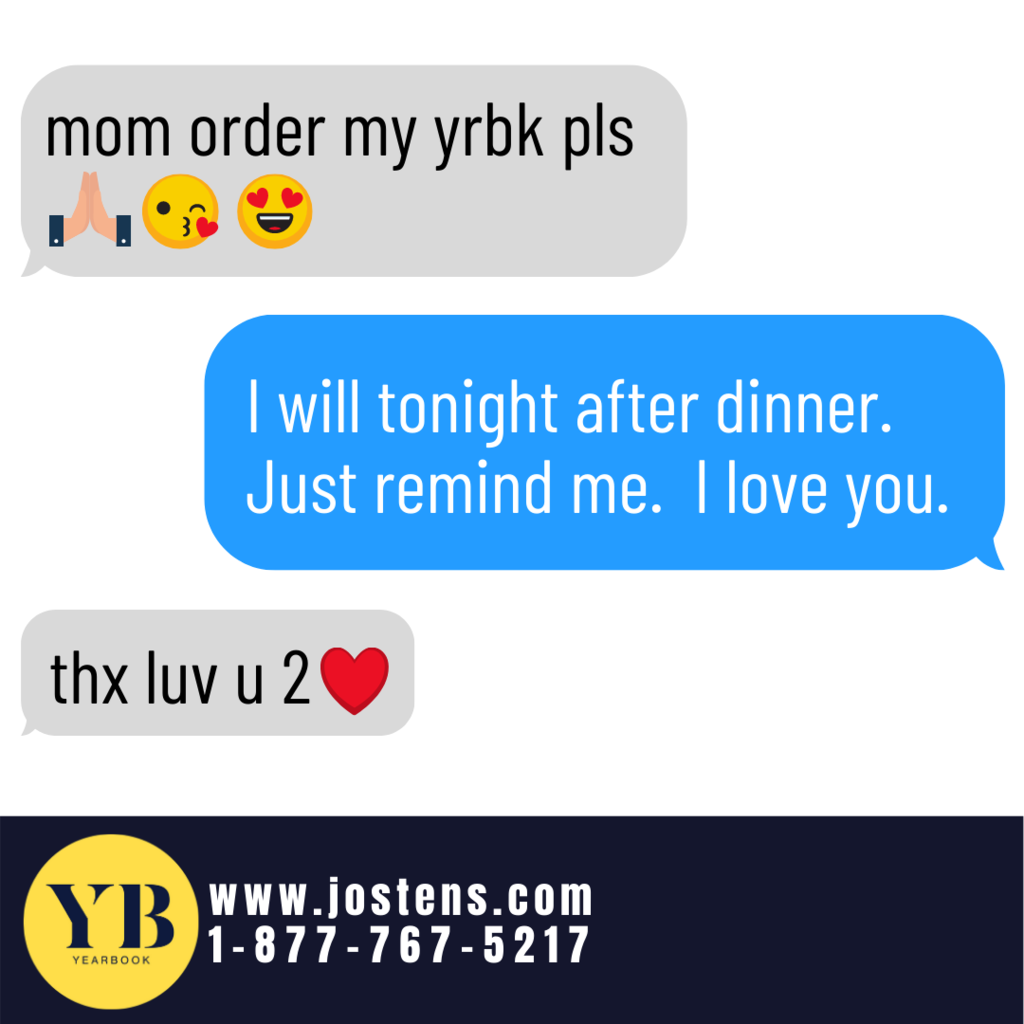 Congratulations to all of the 9-11th grade students that earned awards today in the awards assembly! Great job!!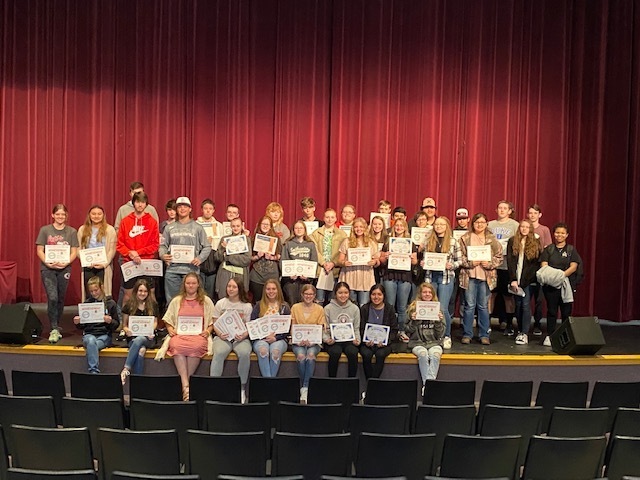 Jarlene Camacho (7th grade) was recognized by Mr. Farris, Mrs. Henry and the board for being the regional champion in the Stock Market Game. She received a banner, a medal, and $125 cash from the state for her success in the game. Congratulations!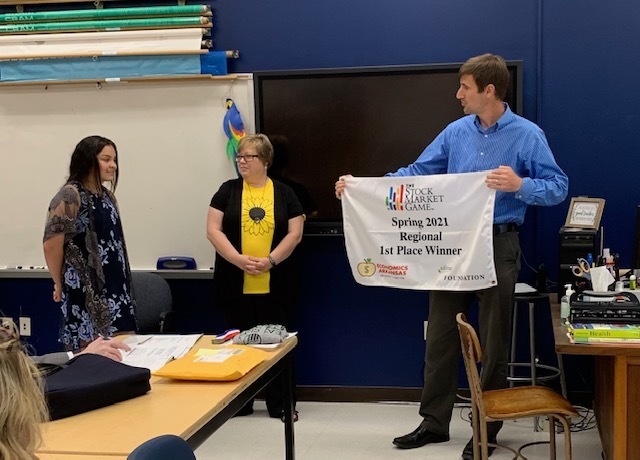 IMPORTANT CHANGES: We WILL allow parents to attend the academic awards assembly for Middle school tomorrow. Awards for grades 5/6 will start at 8:15 am Awards for grades 7/8 will start at 10:00 am. You will be sent a message if your child is getting an award. Thanks!!
The Middle School academic awards assembly is tomorrow, May 18th, but unfortunately, due to limited seating capacity with Covid regulations, we will not be able to allow parents/family to attend. We will take pictures and send them out to families of those receiving awards. We sincerely apologize for this!
Graduation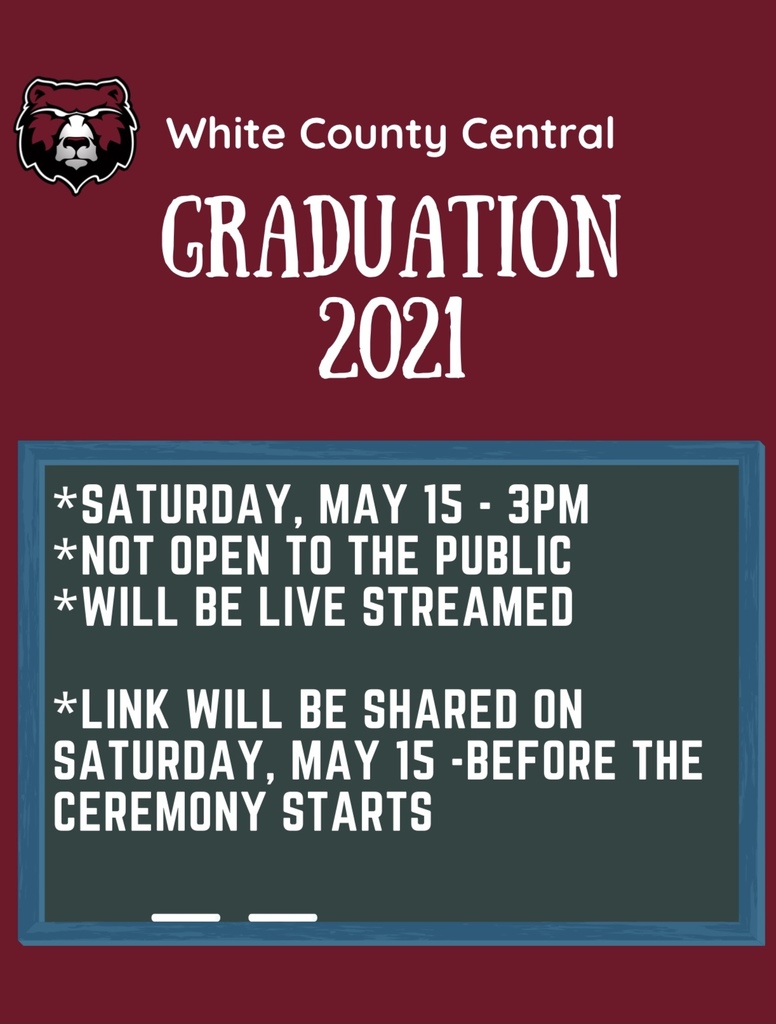 Don't forget the Art Show! 4:00-7:00 pm tonight in the Elementary (please sign in)! This is an opportunity to see all the talent we have at WCC! You will not be disappointed. In fact, you will be quite impressed! We hope to see you there!