SCHOOL NIGHT AT BAILEY'S PIZZA! 10% of ALL sales at Bailey's Pizza in Searcy from 4:30-8:30 tonight will be returned to our school. This includes buffet, delivery, and carry out. Thanks for supporting our school!
Today's featured senior is Shelby Foster. Shelby: I have been at WCC since kindergarten. My favorite subject is English. Once I graduate I plan to go to AState and major in theater and go on Broadway. The most valuable thing I have learned while at WCC is..... there is going to be people that don't like you for who you are but you got to be yourself and like yourself for who you are because that is all that matters. I will always remember the teachers who had my back and were there for me. The advice I give to students still in high school is work hard and dream big.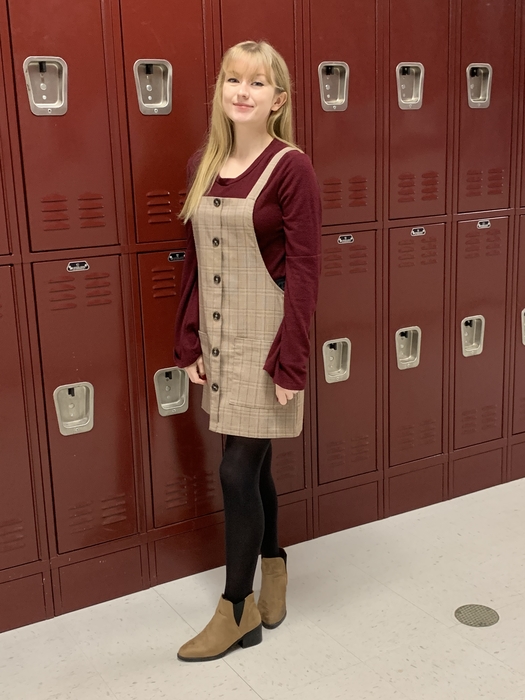 Tuesday, January 15th: WCC Night at Bailey's Pizza in Searcy. WCC will receive 10% of ALL sales from 4:30 to 8:30. This includes buffet, carryout, and delivery orders. Help support our schools by eating at Bailey's Pizza tomorrow night!

Reminder: PTO meeting in the Elementary Cafeteria at 9:00 this morning.
Saturday, Jan. 19, 7th grade jamboree at WCC
Mr. Anderson received a $3822.23 grant from the Arkansas game and fish! Congratulations!!!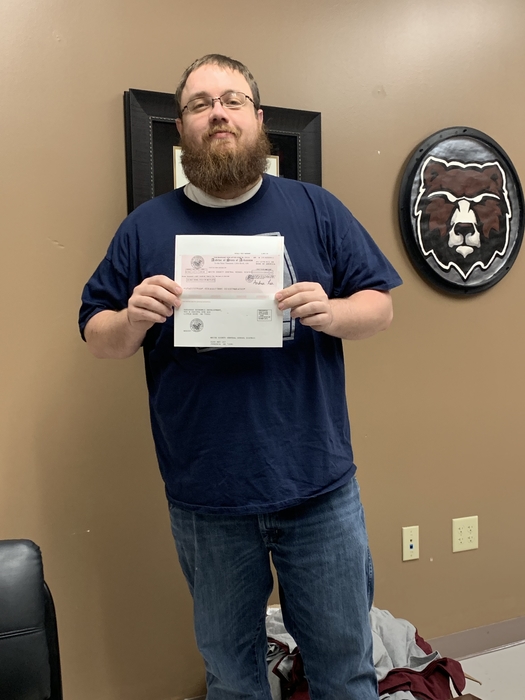 Kaitlynn Barnette has received a GRIT award today for always doing her best. We appreciate you Kaitlynn!!!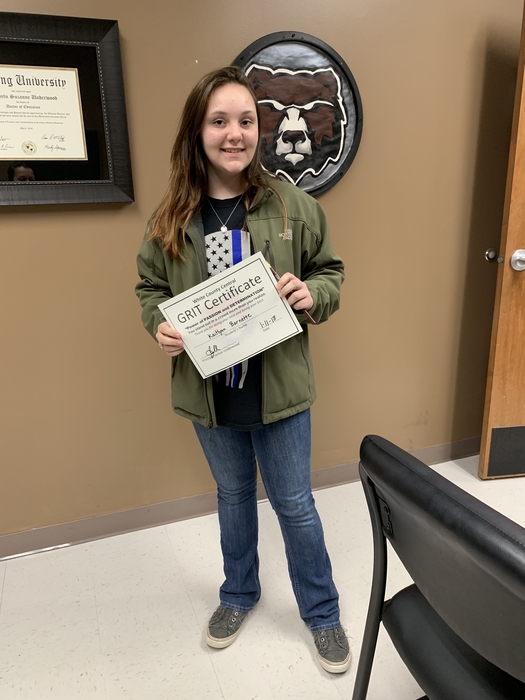 Stacya Polk received a GRIT award today for always doing what she is suppose to and doing her best all the time. Congratulations Stayca!!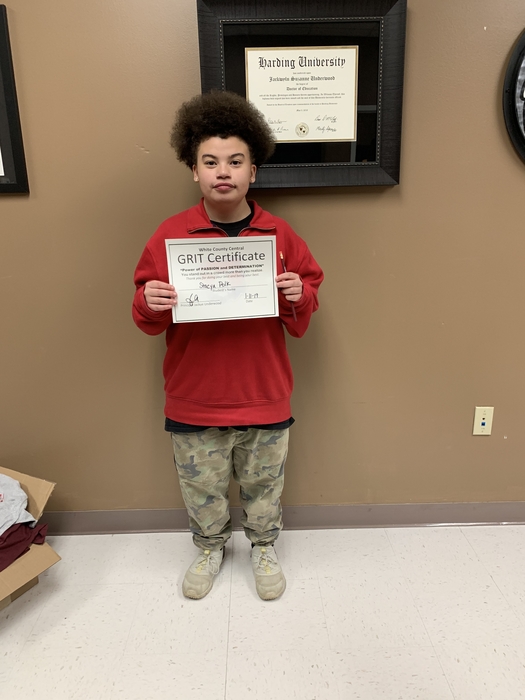 Upcoming picture dates! Feb 13-Club pictures March 14 Baseball,softball March 15 pee wee basketball and cheer March 26 p-6 class pics March 27 p-4 spring pics March 28 5-12 spring pics
Next PTO meeting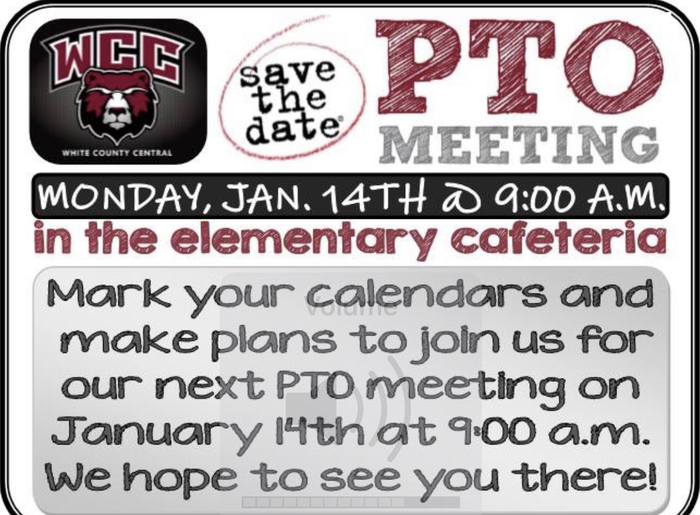 Mark your calendars now! WCC Elementary will be hosting a Family Math & Literacy Night on Thursday, January 31st from 5:30-7:30. Your child brought home information about this event earlier in the week. Please return the attendance form ASAP. We look forward to seeing you there.
7th grade Pangburn Jamboree at Pangburn on Monday, January 14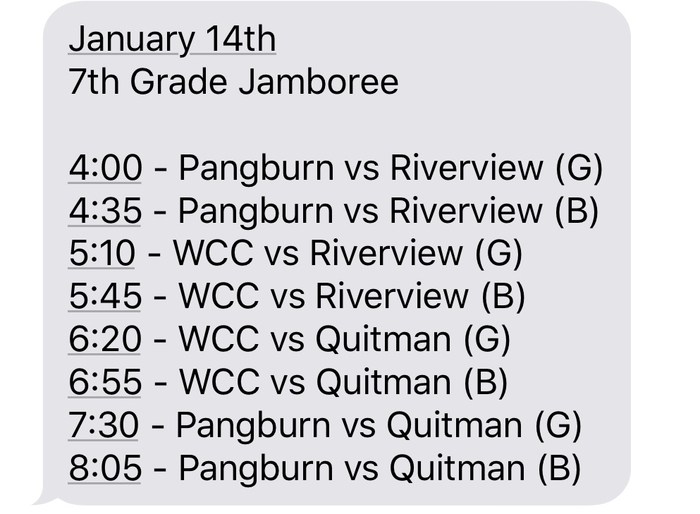 Lonoke 7th grade Jamboree on Saturday, Jan. 12. Boys and girls will play at the same time in 2 different gyms at Lonoke.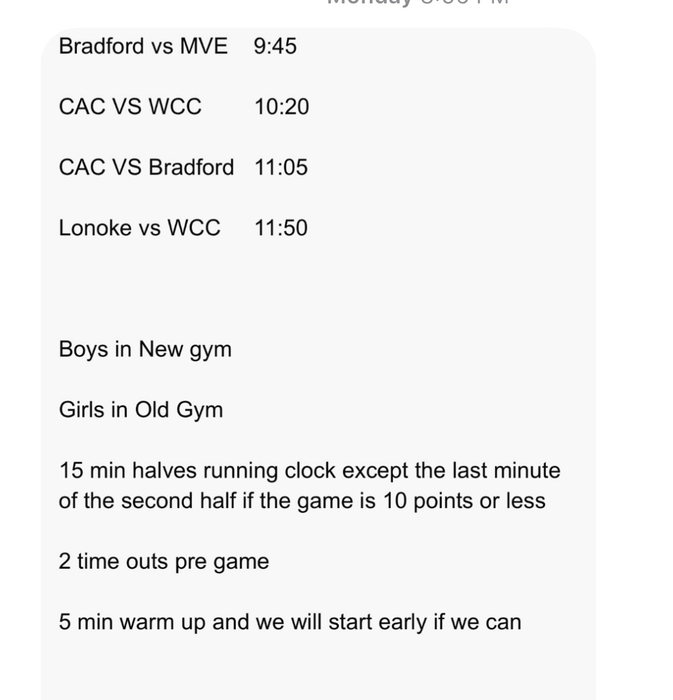 SENIORS and senior parents! Seniors need to get a casual picture to Mrs. Dickerson by Jan 15. This is for the yearbook along-side your composite picture. Either bring a picture or email it to
mdickerson@wccsd.k12.ar.us
ACT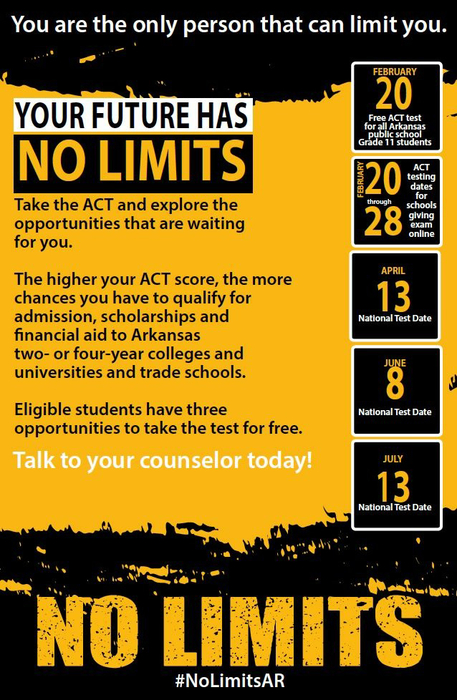 Bears are the Holiday Hoops Tournament CHAMPIONS! Beating Bergman in the Finals 60-45!

Bears lead Bergman 43-31 after 3rd Quarter in Finals!

Bears lead Bergman 30-19 at the half of the Finals at Berryville.

Bears lead Bergman 21-13 after the 1st Quarter in the Finals of the Holiday Hoops Tournament!

Bears beat Huntsville 58-32 and advance to the finals of the Holiday Hoops Tournament tomorrow night at 7:20.